In the past, I have always advocated staying in good physical shape.  I even mentioned it in a blog just the other day.  I have always been blessed with the ability to walk long distances without any problem and even at over 70 my joints are still good.
The other day a friend of mine calls up and says that he is going to hike a trail in Yosemite that he heard has some beautiful views.  Since I do enjoy photography, and he says it is all downhill I figure why not.  Now I have not been hiking regularly for some time (getting lazy in my old age) but since it is downhill why not.  I am not in what I consider good physical shape.
We get up early and leave at 4:30 for the four-hour drive to Yosemite and then have a one-hour bus ride to the trailhead.  We start down and his information is right, the views are beautiful.  The first mile is almost level and we are really enjoying the hike.  Then we reach the switchbacks and the trail starts down and it is steep.  At some points, it is even steps and there is loose debris on the trail which makes it slippery in places.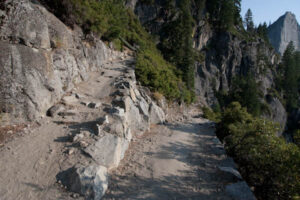 We have not gone down very far when all of our legs are starting to complain. Then we see the sign that say it is three miles to the bottom.  At this point, we are beginning to hope that the trail levels out.  It doesn't it only gets steeper.  Another mile or so and my legs have turned to rubber and I feel like I am staggering.  My legs are now starting to get weak and at times, I have to sit down to let them recover so that I can go on,  I finally reach the bottom of the trail with a whole new respect for very steep downhill trails.  After arriving at the bottom, we then have to hike a mile back to the car.
Today I am not too bad, at least none of my joints hurt, just muscles.  After a day or so of rest, I will start hiking on a regular basis again.  I am again reminded of the fact that just because you are getting older doesn't mean that you won't do something stupid.
Time for me to get back into good physical shape.
Howard