Different methods of cooking.
Something I have wanted to write about for a while is ways to cook when the power is out and you are dependent on what you have stored. The following is an over view of several methods for cooking at your BOL I wish to discuss in depth in the future.
Campfires – The first method that most people think of is a campfire. Personally, this would be very low on my choices. Campfires are difficult to cook on, are highly visible and give off smoke. Food odors can also be a problem. They also are inefficient in their consumption of wood. Now I know that you can use various method such as a Dakota fire hole to make them more efficient and easier to hide. We will discuss some methods of hiding a campfire in future posts.
Dutch ovens – The pioneers loved Dutch Ovens and if you have to cook over a campfire this is by far the best method. You can cook almost anything in a Dutch oven, including baking bread. However they have the same problems of a campfire regarding visibility, smoke and odors.
Fireplaces – They are inefficient and consume a lot of wood. Since they are normally inside, the glow of the flames at night is probably not a problem. However, you still need a good supply of wood. Since modern fireplaces are not designed to be cooked on, you will have to improvise some way to hang your pots. There still may be a problem with odors. You properly won't want to use it in the summer if you live in a warm climate.
Wood stove – A good modern wood stove can be used to cook on as well as provide warmth in the winter. It's consumption of wood will be much lower than that of a fireplace. The flat surface on the top of most modern wood stoves will work for cooking most things, but are not good for baking. If you have an old fashion wood stove you are in luck they are much better to cook on and you can bake. The one big problem with wood stoves is that you won't want to use them on a warm summer day. There is still the problem with smoke and odors.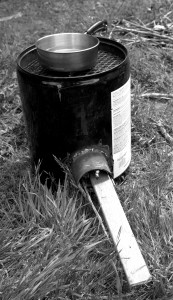 Rocket stove – A rocket stove works well outside and does not give of a lot of light. There are very efficient and will burn almost anything that is combustible and will fit inside. They are not for use inside your home. In the winter or rainy weather, you will be exposed to the elements. You can't bake in one. There is still the problem of smoke and odors.
Coleman stove – A Coleman stove hooked up to a 5-gallon propane tank works quite well. They are easy to use and are quite safe. You can get an oven that fits on top of them to bake in. The big limitation on them is how much fuel you can store. There is still the problem of cooking odors.
Solar ovens – A good quality solar oven can be very efficient and requires you to store no fuel. The sun is free as long as the weather is good. Mine will heat to 350 to 400 degrees on a good day and will bake bread. You can use them in winter as long as the sun is shining. During the summer, the heat from your cooking is outside. The problem of cooking odors remains.
Kerosene stoves – Kerosene stoves are very common in third world countries. A good quality one like the Butterfly stove are reasonability priced. A single burner model will burn up to 12 hours on a half gallon of fuel. They can be used in the house and will provide some heat in the winter. They make an oven that fits on them that you can bake in.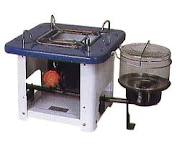 Wonder Box – This is not really an oven, but is a thermal retention cooker.  You heat the food on one of the other stoves and bring it to a good rolling boil or until it is heated clear through, then you place it in the box.  The food then finishes cooking on the retained heat. The advantages of a Wonder Box are that they conserve the fuel you have for your other stoves and once the food is placed inside and the lid is closed, they reduce the cooking odors.
For us the best solution for cooking under these conditions is a combination of stoves. Something we can cook with in bad weather, a solar oven for sunny days and a Wonder Box to conserve fuel. For you, it may be a different solution. In future posts, we will discuss some of the above-mentioned stoves in more detail
Howard