Summer is here and I believe it will be a hot, dry one.  It is time that we start to think about avoiding dehydration.  Water is a critical element in the body, and you must have adequate hydration for the body to function properly.  The human body contains up to 75% water.  A tool that I have found very useful to help keep me hydrated is the hydration packs often referred to as Camelbaks.
Dehydration occurs when the body looses water faster than it takes it in.  The human body loses water for many reasons.
You lose moisture every time you take a breath
Sweating from exercise, you can sweat 2 quarts of water per hour.
Urination or bowel movements
Diarrhea
Vomiting
To protect yourself against dehydration in a hot environment, if hiking you should drink 1 gallon of water for every 20 miles you hike at night and 2 gallons per 20 miles during the day.  This is a minimum.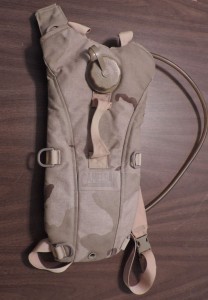 Over the last 20 years or so, I have spent a lot of time hiking in the Sierra Nevada Mountains, and the temperatures at the lower elevations often exceed 100° F.
One solution I have found is the use of hydration packs. I currently have two different styles that each serves a purpose.
I have an off brand one that I bought at a discount sporting goods store made by Outdoor products.  I have carried it for about 10 or more years and it has held up well.  It actually is a small backpack and lets me carry a few emergency supplies.  I usually, carry snacks, water purification pills, fire starter, space blankets, a small first aid kit with moleskin and maybe an extra long sleeve sweater.  This works well for day hikes.  The reason for the water purification pills is that I have had to refill my pack from the river on extremely hot days.
The second one I have is 100 ounce Camelbak that I can attach to a larger pack for overnight hikes.  This is a low profile pack that I have had for some years and I have no idea what model it is. The large size is good when water is hard to find.
One thing that I have found is that having a cleaning kit for hydration packs is a good idea.  I like the one sold by Camelbak.  This cleaning kit comes with special disinfectant tablets, a drying rack and scrub brushes too so you can clean the interior well to prevent the growth of mold.
If you run out of disinfectant tablets, you can use a small teaspoon of bleach, baking soda or dish soap diluted.  Go light on the cleaner; the most important part is scrubbing it out thoroughly with the brush.
Let the bladder sit with the cleaning solution in it for a while.  Then scrub the bladder out with the brushes. Hang it up to dry using the included reservoir dryer.
These have kept me hydrated and prevented from having any heat related problems while hiking.  In a bug out or even while out working in the field these can help keep you hydrated.
Howard