First, start by walking around the outside of your home.  Start by looking around your yard and see what tools or other items could be used to help someone to gain entry.  This would include things like ladders, tables that they could stand on, shovels or yard tools that could be used for forced entry.   Look for the route you would take to break in.
Identify the windows and doors that are the most venerable.  This would include ones that are hidden from view or not well lit.  I like to keep low plants around the windows so that there is nothing for someone to hide in.  A lot of people suggest growing plants with thorns or sharp points under windows.  This is a two edged sword, you may have to climb out that window someday.
Entry Doors:
I recommend a good metal security door.  The screen kind you can see through.  Unless you are silhouetted by light, it is hard for people to see you when you answer the door.  Use both a good quality dead bolt and a lockable knob on both the security door and your inner door.  This means that someone has to come through four locks to enter your home.  If they are good quality this is hard to do, with a bump key or picks.  Your inner door should be a solid core door.  Make sure that your locks are correctly installed.  Make sure that the faceplate is solidly anchored to the frame with two inch screws.
The exterior of the doors should be well lit.  Use fixtures with two bulbs or pairs of one-bulb fixtures at all of your home's exterior doors. The fixture should be either on a motion detector (turns on with motion) or photo electric cell (turns on  automatically when dark). A second bulb provides more light, and ensures that the door won't be in the dark when one bulb burns out.  If both bulbs go out at the same time be suspicious.  Remember crooks will loosen bulbs to create dark spots so they can lay in wait.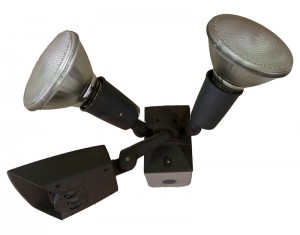 Garage Door
Mount a light fixture equipped with a motion sensor or photo electric cell above the garage door.  If the garage is connected to the house, the door between the house and garage should be treated as an exterior door.  If you use an electric garage door opener to secure the garage door, make sure you have a hasp or other backup plan to secure the door in case the power is off for a period of time.
Walkways And Driveways:
The walkways from the side walk or street to your house, and from  detached garages to the house should be well-lit. Look for dark areas in which someone could hide. If you have a long driveway consider placing low voltage lights along the driveway.
Sides of Your Home
Use floodlights pointed downward from the eaves to light the side of your house. You can install them at corners to illuminate two sides of the house.  Don't point the lights away from the house; this will leave an unlit area between the house and lighted area.  If possible have the lights high enough that they would be out of the reach of a burglar.  Use motion activated lights, or lights with a photoelectric cell.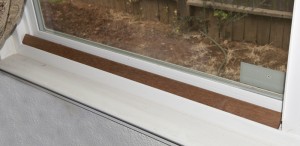 Windows:
The light that covers the sides of your home should light up the windows.  Check the locks on the inside of your windows and see if you need to replace the original locks on your windows with sturdy, reliable ones.  For example, ordinary sash locks on double-hung windows, provide little security.  An intruder can simply insert a knife up between the sashes and turn the lock to its open position, or exert enough pressure to snap the hardware. There are so many different types of windows and window locks that it is impossible to cover them all in this post.  Go to your local hardware or locksmith and talk to an expert for more ideas.
A couple of simple things you can do, lay a piece of wood in the track of sliding glass windows and doors.  With double hung windows you can place a piece of wood in the vertical track.  Both of these will make the window more secure.
Some people ask, why have good window locks if an intruder can just break the glass to get in?  Glass is a good deterrent because it makes noise, slows an intruder down and the broken shards can cause injuries. If you are worried about glass breakage you can use a glass fragmentation film like BurglarGARD™, impact-resistant acrylic or polycarbonate, or high security glass.  You can put bars on your windows, however in most area these are required to have special releases on the interior to comply with fire laws.
Burglar and Fire Alarms
I believe strongly that these can be a good deterrent if you live in an urban or semi rural area.  Some places are just too isolated for them to do any good.  I will cover more on burglar alarms in a future post.
Howard