This week I had a talk with both a doctor and a nurse regarding sutures and their shelf life.  Until recently I was unaware of the fact that this was a consideration.
[/caption]
The information I was given is as follows, sutures come primarily in two types absorbable (naturally biodegradable in the body) or non-absorbable.  Absorbable sutures are marked with an expiration date that is considered to be fairly accurate.  In other words they breakdown and become unusable fairly close to their expiration date.  The shelf life of the absorbable suture seems to be in the area of about five years from date of manufacturer.  The date should be marked on both the box and the individually package sutures. Absorbable sutures are made from catgut, polyglycolic acid, polylactic acid, and polydioxanone.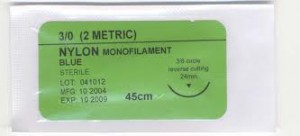 Non absorbable sutures are primarily manufactured from special silk or synthetics polypropylene, polyester or nylon.  The packages they come in are also marked with an expiration date which seems to run in the 4-5 year area depending on the brand.  However I was told that these can be used well past their expiration date in an emergency.  I then opened a package that was about 20 years old and found that the suture material had lost a good portion of its strength.  So if you are storing suture materials you may want to check them periodically to make sure they are not out of date.
Howard