[/caption]
Cooking with a solar oven is different than cooking with your kitchen range.  For instance most kitchen ranges cook from the bottom up.  A box type solar oven cooks from the top down.  This is one of the reasons you need to experiment with your solar oven.
If you are cooking bread or muffins, try putting a heat sink under the pan.  This will help make sure they are not too moist on the bottom.  A heat sink is a brick or large flat rock that is painted black and preheated in the solar oven.  This gives you a hot surface to place your pan on.
Be sure and paint the inside of a box type solar oven black.  Tests that I have conducted show that the temperature gets hotter if the inside is black.  Ordinary black house paint or barbeque paints works well.
Old fashioned blue enamel (GraniteWare) cooking pots are the best all around cook pots to use in a solar oven.  On partly cloudy days Dutch ovens work well.  While slower to heat up they retain their heat if the sun goes behind the clouds for a few minutes.  A good improvised cooking pot is a quart canning jar and lid.  You put a vertical piece of tape on one side and then paint the jar black.  Peel the tape off and you have a window so you can check on your food without opening the lid.  Any pot used should have a tight fitting lid.
If you are cooking a large amount of food, several small pots work better than one large one.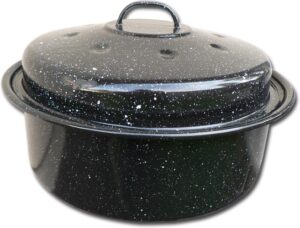 It is ok, to check on your food once in a while, but every time you open the oven the temperature drops.  Things like stews, soups, roasts poultry, casseroles and fresh vegetables are almost impossible to overcook.
With the exception of cookies and open-faced cheese sandwiches, most foods, are cooked in containers with the lids on.
The following food: green vegetables, cookies, cakes, and bread should not be over cooked.
When cooked in a solar oven most recipes take slightly less liquid.
The solar oven will be hot! Use potholders when removing lids or pots.
I suggest you start practicing with your solar oven now.  It is fun to experiment now, but it might not be later on.
Howard