I gave you a recipe for refried beans a while back and got requests for a tortilla recipe.  My Aunt and I never remembered grandma making corn tortillas.  She said that grandma didn't really like corn tortillas because they didn't hold enough and got soggy fast.
During my aunt's life and of course mine, my grandma made flour tortillas and grandpa, made Rotis, (which are Hindu tortillas) It's nothing like the ones everyone is eating now, called Naan bread. That is no comparison to texture or taste to my grandpas Rotis. They are made from wheat flour, white flour and of course water and lots of butter.  They are so flakey; you just want to eat them plain.  These tortillas were usually made when we had curry chicken and vegetables; otherwise, we all ate flour tortillas. She always had a pile of tortillas to go with the beans and rice.  Anyone could just go in and make burritos at any time.
Anyways let's get back to my grandma's Mexican tortilla recipe and I have a chili sauce you may like also.
Flour Tortillas (Makes 6 to 8 tortillas depending on size)
2 cups of white flour, (regular or self raising)
2 tablespoons of Crisco or lard (we used lard)
1 Tsp of salt or to taste
Work your Crisco or lard and salt into the flour like pie dough.  Add warm water (not hot) slowly until you have the consistency that you want, not runny.  Knead your dough, and always keep putting flour on your hands until the dough is smooth
Then make little balls of dough and once done you can start stretching the balls of dough until they are round and then cook them on griddle.  Brown them on one side and then turn over and brown the other.  We use our hands to make and turn  the tortillas, but you can also roll out the little ball with a rolling pin and use a spatula to turn the tortillas.
Here is a chili sauce that my aunt loves with beans and rice.
Tomatillo Chili Sauce
15 to 20 chilies Serrano or jalapeño or you can use the small dry red chilies
12 to 15 tomatillos
salt to taste (optional)
water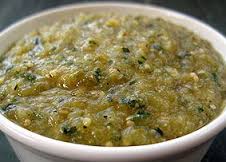 Wash the peppers and take stem off.  Take the paper like skin off and the stem off the tomatillos, put the peppers and tomatillos in a pot and boil until soft.  Drain and put them all in blender. Save a little water from cooking them to add to sauce while blending , add salt to taste.  It's a different taste to other chili sauces.
If you have never tried tomatillos, and you like hot sauce try this and see how different it is.  With beans, rice and tortillas you have a completely new experience coming your way.
Preparedness Mom