Living off-grid does not mean living without any modern conveniences. Devices like washing machines are typical in off-grid homes. After all, you'll still need to do laundry off-grid. As with any appliance purchase, you must determine the features you require. In the case of an off-grid washing machine, water consumption, electrical demands, and reliability are the primary factors to consider. There are several high-efficiency products available. Even DIY washing machines are a viable option.
Setting Your Parameters
Much of living off-grid is dealing with limitations. You must determine what you are willing to forego and what you need. In the case of a washing machine, you must consider your water source and the amount of electrical power available. These two factors will guide you in the selection process.
Water
Water consumption is a significant concern in most off-grid homes. The type of machine and amount of dirty laundry will impact water consumption. Determine how much water you can afford to spend daily or monthly. If you choose a smaller model to conserve water but do more loads, are you really saving? Plus, you don't want excess water after a rinse cycle, increasing the time and energy needed to dry the freshly laundered clothes.
Wash Load Statistics
The average electric wash machine uses 19 gallons per full load to clean clothes.
The average home runs 5.5 full loads a week.
The Integrated Water Factor (IWF) provides the water efficiency of washers.
The EPA Energy Star Program provides a database of certified washers IWF.
It is great if you are lucky enough to have an ample water supply. For many off-grid homes, water conservation is a significant concern. Look for a washer with a LOW IWF rating.
Bonus Tip
You can choose the quick wash program instead of the regular wash program so that it only rinses the clothes once instead of twice to help save water.
Electricity
You need to know the power usage of your washing machine, as most off-grid homes have limited power for appliances. A basic washer requires approximately 500 watts of power. However, machines with special features consume more power. A washer with steam features can use up to 3000 watts. If you choose to go with an electric unit, avoid special heating features. Remember that operating a manufactured electric machine will require solar panels, batteries, and an inverter to provide AC electricity.
Electrical Power Factors
Washer size.
Special features.
High-efficiency motor.
Electrical efficiency values are available from the Energy Star Program.
Off-Grid Washing Machine Types
After establishing your requirements, select the type of machine that best fits your lifestyle. Each type of machine has its benefits and drawbacks.
Manually Powered
Before electric motors drove wash machines, hands provided the energy to wash clothes. There are several manually powered wash machine designs on the market. If you are a fabricator or like to experiment, a DIY washing machine may be for you. And if you don't want to use electricity or another power source, then a little elbow grease can get the job done and help you save money if you're on a tight budget.
Manufactured Manually Powered Units
Manually powered washers take many forms. Most manual washing machines are powered by providing an up and down motion to agitate the clothes in a tub or a crank that stirs the clothes. There are also hand-cranked units that rotate a drum. The clothes tumble in the drum to agitate. A hand washer can be effective, but it takes some effort to operate and may require a small load so your hands don't get tired. A pedal-powered washing machine is also an option if you do not mind a little physical activity.
PROS:
No electricity required.
Simple to use.
Inexpensive.
Readily available on the internet.
CONS:
Small capacity.
Require a lot of effort.
Questionable quality.
Made primarily of plastic.
The Wonder Wash is a popular compact washing machine for off-gridders. It is a small machine with a hand crank that can wash up to 5 pounds of dirty clothes at one time.
The Laundry Pod is another popular choice in off-grid washing machines. It's a manually powered unit that churns the clothes by pedaling. It is made of stainless steel and can hold up to 10 pounds of clothes.
DIY Manually Powered Units
If you are interested in building your own washing machine, a quick Google search for DIY Washing Machine will provide various designs. There are simple bucket and plunger styles. You will also find dual drum units driven by a bicycle or solar-powered motor. Even an old, nonfunctioning washer can be adapted to manual or solar power with ingenuity and experimentation. Your imagination and skills are the only limits.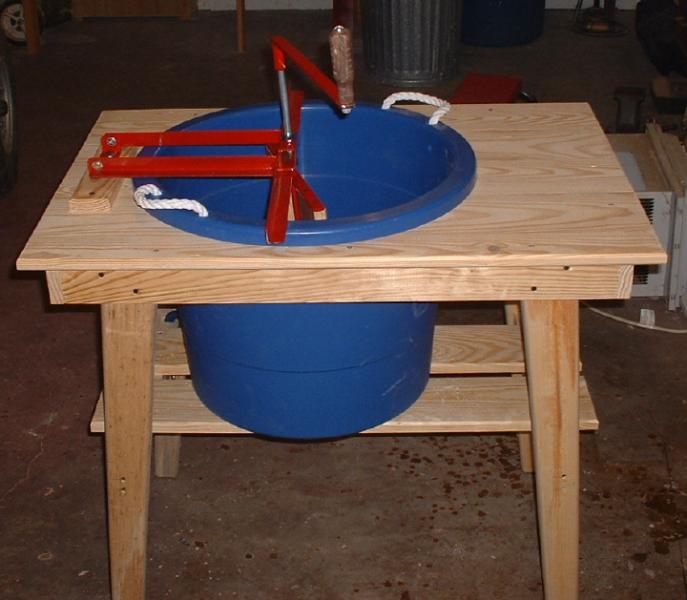 PROS:
No electricity required unless you want it.
From most basic to complex mechanical design.
Potentially inexpensive.
It can be built with everyday items you may already possess.
Can evolve.
CONS:
More complicated designs may require a lot of work to build.
Non-electric designs require effort to operate.
May not be water efficient.
Complex designs may take tinkering to refine operation.
Bonus Tip
If you're into manual washing machines, there are also ways to dry your freshly laundered clothes manually. A clothes wringer or a DIY solar clothes dryer can help speed up the process. You can also line dry your clothes the old-fashioned way.
Electric Powered
Electric washing machines can function in off-grid situations. Modern washers are much more efficient than older models and get the work done with minimal effort. Much of this improved operation is dependent on electronics. Repair parts of any modern washing machine or appliance may be challenging to acquire. If you decide to go electric, look for a washer from a dependable manufacturer with an Energy Star rating.
Top Load Electric
A Top Loader is the most popular style of traditional washing machine in the United States. The machine has a large spin tub that you load from the top. Water fills the tub to wash. The soapy water is drained, and the tub is refilled to rinse the clothes. The size of the spin tub and the type of agitator determines how much laundry you can wash at one time. These washers use 20 to 40 gallons of water per wash load.
PROS:
Inexpensive.
Easily available.
Wide variety of sizes.
More basic models can be owner maintained.
CONS:
Basic models are not very water efficient.
Require AC power source.
Require a pressurized water supply.
Front Load Electric
This style of washing machine has made significant advances over the past decade. Front-loaders tend to be more water and electrically efficient than top loaders. They use as little as 15 gallons of water to wash a full load. Their spin cycle also makes clothes dryer than other styles. The lack of an agitator makes them more gentle when washing clothes.
PROS:
Very efficient.
Better for clothes.
CONS:
Most models have complex electronics.
No smaller models.
Not user maintainable.
Horizontal Axis Top Load Electric
This hybrid washer is considered the most efficient style available. It employs a vertical drum, like a front loader, but loads from the top. It is generally accepted as the most efficient electric style available. Its odd configuration, and patent issues, have limited its popularity. The design makes this style of washer owner serviceable.
PROS:
Energy-efficient.
Owner maintainable.
Simple design.
CONS:
Minimal manufacturer base.
Small capacity.
Potentially challenging to find parts.
Expensive.
Laundry Detergent
You will not find any special requirements for laundry detergent when using an off-grid washing machine. The same soaps and detergents used in conventional machines will also work in your manual or solar-powered models. You may need to experiment with the amount of soap required, as some brands are more concentrated than others.
Last Words
When going off-grid, creature comforts often get left behind. A washing machine does not have to be one of the comforts sacrificed. If you decide to purchase an electric washing machine, efficient and robust models are best suited for off-grid applications. Simple is best when it comes to an off-grid washing machine. A hand-powered unit or DIY design can be surprisingly effective if you prefer to be entirely self-sufficient. Whether electric or manually powered, a washing machine can be part of your off-grid life.