Goal Zero products get consistently high ratings and are easily available on Amazon. We started with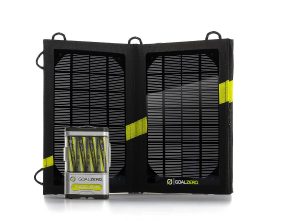 the Guide 10 Plus Solar Kit. The panel itself is about the size of a hardback book and has a small pouch for the battery pack and the charging cords. The individual AA batteries can be removed and used for other purposes, which is a nice feature.This is what we use to charge cell phones, a GPS unit, and tablets. Because it's solar, I can set the panel out anywhere and soon have a battery pack that is charged and ready to use. It's a lower priced entry into the world of Goal Zero and solar products. The panel itself has its own USB outlets and could be used to charge a device on its own. The main benefit with this set is that I can carry it with me wherever I go and not have to try and find an electric outlet when my phone dies.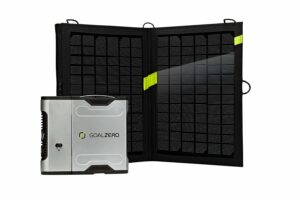 Another recent addition to my solar stash is a step up, Goal Zero's Sherpa 50 Kit With Inverter. This battery capacity has 58 watt hours and can be used to charge a laptop, which is a big deal in my family, and most other USB devices. The battery pack can be charged via the solar panel, an electrical outlet, or a car's 12V adapter.
I'm partial to Goal Zero products but have had good luck with smaller solar products like these:
Solar power doesn't have to be a full-house commitment. I've found that having several small solar items was a great way to get used to using the sun for energy and gradually, we've worked our way to bigger applications. My next purchase will be a Goal Zero Yeti, and I can't wait!