A good source of information on living on short rations is to study the way the English cooked during World War 2.  Due to rationing many foods were in extremely short supply.  I was born in England during the war and have heard many stories about rationing.  Even after the war, many items were in short supply into the mid 1950's.
Many of their recipes were very heavy in vegetables, since they were more available.  An example would be Lord Woolton Pie a recipe that the government suggested.
Woolton Pie – A garden recipe
This recipe became famous in England during World War II rationing.  Lord Woolton, Minister for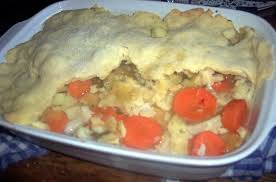 Food, promoted it as a healthy meal choice.
Ingredients for the pie:
One lb (450g) of dices potatoes
One lb (450g) cauliflower
One lb (450g) rutabagas
One lb (450g) carrots
Three or four spring onions or some sliced onion
One teaspoonful of vegetable extract or bouillon cube;
One tablespoon of oatmeal
Chopped parsley
Ingredients for the pastry:
This pastry uses only flour and lard (no sugar or egg) for six oz (170g) of pastry
Four oz (113.4g) of whole-wheat flour
Two oz (56.7g) lard
Instructions for the pie:
Dice up the vegetables.  Place in a saucepan with just enough water to cover.  Add the oatmeal and vegetable extract and stir.  Cook for ten to fifteen minutes.  Stir occasionally to prevent the mixture from sticking.  Remove any excess water and allow cooling.  Put the vegetables into a pie dish and sprinkle with chopped parsley.
Instructions for the pastry:
Place the flour into a bowl.  Cut up the lard and rub into the flour with your fingertips until you have a breadcrumb like consistency.  Add a tablespoon of water to make dough.  Roll out very thinly. Cover the vegetables with the whole-wheat pastry. Bake in a moderate oven until the pastry is nicely browned and serve hot.
As an option some people would put melted cheese on top if it was available.
Now you can see this is not the type of food we are used too.  In England during this period, meat was in very short supply.  Most went to the military.  As a result, people lived on lots of vegetables and grains plus fish was often available.  Tomorrow I will show what an individual would get while rationing was in effect.
Howard