I recently was asked if the replacement filters in the large gravity flow water filters were interchangeable.  By this, I am talking about the AquaRain, the Berkey, Doulton and Katadyn gravity flow water filters.  While all of them claim to be the best, my research show that they are all good quality units.
I have had quite a bit of exposure to the Berkey, AquaRain and Doulton gravity flow water filters. My exposure to the Katadyn is more limited. All of these filters work on the same principal. The water is poured into the top container and by the action of gravity flows though the filter into the lower container. From there you can use a tap to access the water. Every one of these filters that I have used has worked well.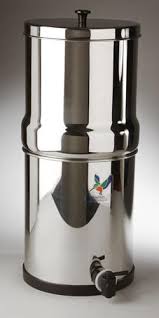 Each manufacture of gravity flow water filters claim that their filter is the best. Now I don't want to get into an argument over which is best, I believe that they are all-good and will do the job. Some will last longer than others and some may be a bit better on chemicals than others.
The one point that I want to make is that the filters in the Berkey, AquaRain and the Doulton are all interchangeable. I am not 100% certain about the Katadyn, but I believe it also is. This lets you take advantage of several things; in an emergency, you are not limited to the one brand. If you see a sale or particularly good deal on one of the other brands of filters that fits your unit you can take advantage of it.
Personally, I have an AquaRain and stock Doulton, Berkey and AquaRain replacement filters. Over the years I have been able to take advantage of various sales and other good deals I have ran into.
Howard