Hopefully you have stocked up on a good selection of sewing supplies. So you look in your supplies and find a zipper repair kit. Instead of having to rip out the old one, which you may or may not have a replacement for, you can save time and money by replacing what is wrong with it. I don't know about you, but it's hard to replace zippers in coats and jackets, even in jeans.
These are some of the types of kits, I found on the internet:
Zipper kit for; outdoor gear like tents, backpacks and tents
Zipper kit for: clothing
Zipper kit for; tab replacement
Ezy zipper Glide; helps with sticky zippers
Now this is just one example of how you can solve a problem with a little bit of preplanning. Depending on your needs, you may want to stock some or all of the following.
Sewing machine needles of the following types: regular point, (fine point) ballpoint, (knit material) and chisel point (leather) Sizes 9 for the thinnest to 16 the thickest.
Crocheting needles all sizes
Knitting needles all sizes
Quilting needles all sizes
Hand sewing needles; sizes #1 to 10, plus heavy-duty needles, for carpet, canvas, tents, leather, mattress and furs.
Self- threading needles (for bad eyes) yes I have several packages. Just don't pull to hard or the thread comes out of slot.
Grommets all sizes and shapes (good for canvas and heavy duty material) a good source is Amazon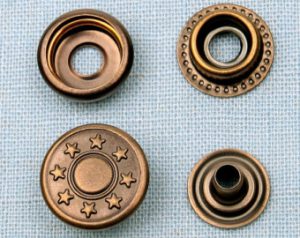 Snaps, all sizes – a good source is Amazon
Regular and pinking shears
Seam ripper, it's a one in a million tool (I own three)
Extra bobbins for your machine
Pincushions
Threat in all sizes and strengths
Buttons
Canvas strapping various weights
Thimbles, If you are having to sew heavy materials by hand you will need them.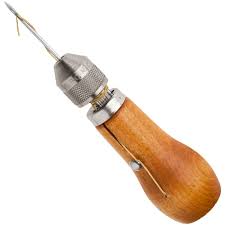 You can also find some great military surplus that can be found in garage sales. We go through and look for damaged items, if they are beyond repair; we remove any usable straps and fasteners before throwing them out.
Think about what items you need to have on hand to repair fasteners on your clothing and field gear. You need to try to repair a few items now before and emergency, this will help you to develop your skill and help you decide what to put in your preps.