Lately I have been thinking about what it would be like to live in a tent for a substantial period of time.  This came about as the result of a discussion on what type of tent would be best.  I came to the conclusion that I don't know the best brand!
When I was at the Expo in Utah last week, I saw several and they were not cheap.
After looking at them, I came to some conclusions on what I want in a tent. Out of the ones that I saw, I liked the new 16×16 military tent. It was made from a synthetic fabric and while the tent was still quite bulky and heavy, it was not as heavy as canvas.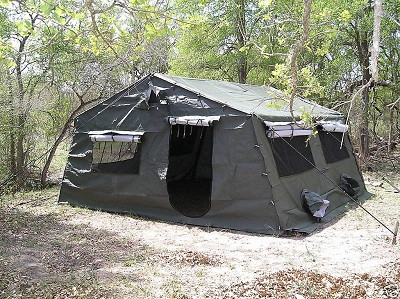 This would be a tent that you would set up for long-term use and not move very often. You would need a vehicle or horses to move it any distance.
The things I liked about the tent were the height; you could stand upright in it. It was set up for heating with a wood stove. The tent appeared to be well vented. There was room for extra supplies and several people.
The tent appeared to be quite sturdy and had a heavy frame. It came with an awning over the entry way. The biggest problem with it that I could see was its price. With extras including a stove, pipe and fitting, it cost around $3800.
Maybe some of you can recommend a good brand or source of large tents. In a long-term situation, I would set it on a wooden platform. Based on prior experience I would build a platform that is constructed more like a porch or deck with individual boards and spaces left between the boards for drainage and ventilation.
If you put a ground cloth under the tent, you never want to let your ground cloth extent beyond the edges of the tent. If it rains, the water will run off your tent onto your ground cloth and back under your tent. You will be making a shallow tub for your tent to sit in.
Be sure and allow plenty of ventilation to help keep moisture from accumulating in the tent. Sealing a tent too tight is often one of beginner's biggest mistakes. Now while I have had quite a bit of experience in smaller tents, I have very little in large tents.
What I would like to do is start a discussion that will help all of us gain knowledge. Send in your comment and suggestions.