One of my projects is to look for old recipe books.  They often have great recipes in them that are made from scratch and work with foods that we can produce or grow at home.  These particular recipes came from the book Everyday Foods in War Time written in 1917.  They are bread recipes.
Eggless Corn Muffins
Corn meal, 1 cup
Pastry flour (sifted), ½ cup
Sugar, ¼ cup
Melted butter, 2 tablespoons
Salt, 1 teaspoon
Baking powder, 2 teaspoons
Milk, 1 cup
Mix dry ingredients and add milk and melted butter. Put in greased muffin pan and bake 30 minutes in a moderate oven.
Oat Bread
Boiling water, 2 cups
Salt, ½ tablespoon
½ yeast cake, dissolved in ½ cup lukewarm water
Rolled oats (dry), 1 cup
Molasses, ½ cup
Fat, 1 tablespoon
Flour, 4½ cups
Add boiling water to the rolled oats, stir well and let stand for one hour. Add molasses, salt, fat, dissolved yeast cake, and flour; let the dough rise to double its bulk, beat well, and turn into greased bread pans, let rise the second time, and bake about one hour in a moderate oven.
War Time Boston Brown Bread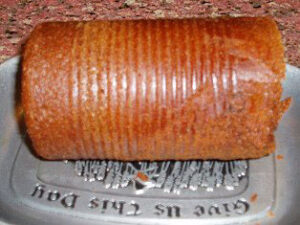 Rye meal, 1 cup
Corn meal, 1 cup
Finely ground oatmeal, 1 cup
Milk, 1½ cups
Soda, ¾ teaspoon
Salt, 1 teaspoon
Molasses, 1 cup
Baking powder, 2 teaspoons
Mix and sift dry ingredients, add molasses and milk, stir until well mixed, turn into a well-greased mold, and steam three and one-half hours. The cover should be greased before being placed on mold. The mold should never be filled more than two-thirds full. A one-pound baking powder box makes the most attractive shaped loaf for steaming; place mold on a trivet in kettle containing boiling water, allowing water to come half-way up around mold; cover closely and steam, adding as needed more boiling water. One cup chopped peanuts and 1 cup of cut dates may be added.
Rice Bread
Milk, ½ cup
Sugar, 6 tablespoons
Fat, 4 tablespoons
Salt, 1½ teaspoons
Compressed yeast, ½ cake, softened in ¼ cup liquid
Boiled rice, 7 cups
Flour, 8 cups
This proportion makes two loaves of bread.
Scald the milk with sugar, salt, and fat. Let cool until lukewarm and pour over the boiled rice. Add yeast which has been softened in one-quarter cupful warm water. Stir in flour and knead. Let rise until double its bulk. Knead again and put into pans. Let rise until light and bake 50 minutes to one hour in a moderate oven.
The rice should be boiled in a large quantity of boiling water, in order to insure a dry rice. At least eight or ten times as much water as rice should be used.
These bread recipes are a bit different from the ones that we normally see today.  Powdered milk can be used in place of fresh milk.  Yeast can be gathered or replaced by substitutes.  See the following posts for some ideas, Old Ways to Leaven Bread,  Leavening Bread with Homemade Baking Powder, Leavening Agents for baking after TEOTWAWKI,  and Juniper Berries Another Useful Edible Plant.  The rest of the foods should be in your storage, with the possible exception of fat.
Good luck with your bread recipes
Howard