The solar oven shown in the picture from the Solar Cook Off is one of the simplest I have seen.  It is an inexpensive cardboard oven that he purchased from Solar Cookers International (https://solarcookers.org/) several years ago.  My friend uses it almost every day.  He often cooks his lunch on the hood of his truck while he is at work.
If you look close at the picture, you will notice that he found an old large Tupperware style container with a lid.  He sets that in the oven with painted quart jars of food inside.  The jars are painted black except for a strip on the side so you can check on the food.  He puts a piece of masking tape on the jars before he paints them and then just peels it off to leave the view strip.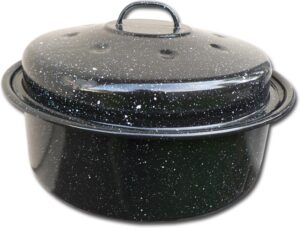 The stove works very well and reaches a good working temperature in excess of 200 degrees.  He also has an oval shaped graniteware roaster that will fit inside his plastic box.  He often uses that for roasting meat.
Graniteware is the old black or blue pans with the little white spots your grandmother used.
Howard