My friend Ed sent me this information on a type of cache that I was not familiar with.  I have been aware of various methods of burying caches and even hiding caches under water.  But I had never thought about trees as a location for them.  He has also included a suggested packing list for supplies that fit into what is commonly called a 50 cal ammo can.  You can vary the contents to fit your needs.
Howard
The "Grab & Go" squirrel cache concept
During my trip to Italy last year I was shown how WW2 partisans made use of hasty, expedient caches, by bundling ammo boxes in burlap sacks, and hoisting them up high in trees, camouflaged with brush, so they would be safe and well hidden until they could come back to get them later.  This expedient was used for small items considered dangerous to be  "caught with," by the enemy, such as portable radio transmitter sets, spare radio "valves" (tubes), batteries, pistols and ammunition or grenades.
The key to a tree cache not being found is using a brushy tree, located well off any road or trail which may be climbed high enough so that the end of the tag line can be well hidden above head height, tied  securely then completely concealed by bark, in brush or tucked into a knothole.  Enemy patrols always looked for dirt and brush which out of place, but seldom looked up high into trees.
The expedient tree cache requires no digging, and can be exploited quickly if suitable trees have been pre-scouted.  It is vital that tag line be well hidden to leave no visible evidence of its presence. I've been experimenting with pre-positioned similar small "grab & go" can caches, in .50 cal. ammo cans, double-wrapped in black plastic garbage bags, camouflaged in netting, then hoisted 10 meters high or more up into a tree with paracord or demolition wire. Looks just like a squirrel nest.  This enables you to travel into the bush quietly and quickly, lightening the load, by stocking supplies ahead of time.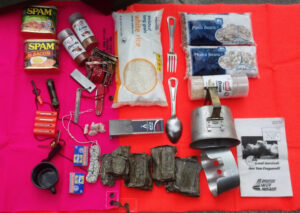 Packing the Emergency Food Can  – The following all packs into a one military M2A1 steel ammunition  can, intended as an emergency 1 man/week food supply for your boat, vehicle or aircraft.  The foods in the can have great staying power, but require significant water for cooking and digestion.  If you want to substitute no-cook foods for the rice and beans, you must compromise bulk and shelf life. I've found few ready to eat foods with the shelf life and pure staying power of SPAM, beans and rice.  Peanut butter in PET plastic containers, Bega tinned cheese and Red Feather tinned butter with MRE vacuum foil wrapped John Wayne crackers, Mainstay lifeboat rations or pilot biscuit comes close.  A week's supply of multi-vitamins is a good idea.
3 lbs. dry rice
2 lbs. dry beans
2 cans SPAM
6 ozs. dried onion flakes
2.5 oz. Chipotle seasoning
2.75 oz. Cajun seasoning
7 teabags
64 wooden strike anywhere matches,
12 trioxane fuel bars
Ferro rod
Fire starting tool NSN 4240-01-160-5618 (Get the real military one A Problem with Chinese Made Fire Starters Howard)
Hand twist-type pencil sharpener to produce wood shavings from sticks as tinder
Mil-K-818 or Swiss Army Spartan pocket knife
Razor, folding, utility
Saw, folding, utility
Canteen cup and warming stand
Mess kit fork and spoon
1/3 c. measure; 2/3c. rice to 1/3c. beans, soak overnight in 2c. water before cooking.
Personal illuminator and four extra AA batteries
Land Survival Pamphlet FAA-P-8740-59, AFS-803 (1999)
Hunting ammunition (substitute water filter if no firearm is carried or needed in survival kit).
50 ft. light duty nylon "Mason's Line" as utility cord