[/caption]
Water purification is the process of removing undesirable chemicals, biological contaminants, suspended solids and gases from contaminated water. In other words, it is to take out the bad stuff that may affect you. This is probably one of the single most important things that you need to study.
Now I see many suggestions on the internet for homemade filtration systems often using a container filled with sand, rocks and charcoal. I have not seen one that I would trust. If you are planning to improvise a water filter you better really know what you are doing for most of us Sodis or boiling would be a better choice. See Sodis an inexpensive method of water purification A Simple and Inexpensive Water Purification Device the WAPI.
There are many good commercial filters available, some like the Sawyer's that claim to be able to filter one million gallons. But whatever type of water filter you purchase, make sure that it will remove particles of less than 1 micron to take out bacteria. This is absolutely critical.
Commercial water purification systems work by one of several methods, ultra violet light, filtration, distillation and reverse osmosis. These methods all have advantages and disadvantages. For instance reverse osmosis and distillation systems are large bulky, require energy or fuel to operate and are not practical in the field. There are ultra violet and filtration systems that are small portable and quite efficient.
For use in home, I personally like systems like the Berkey or Aqua Rain.  See the following link for more information  An Inexpensive Water Filter the Bucket Berkey.
For get home or bug out bags Katadyn, First Need, and Sawyer all make excellent filters. these are only some of the choices that are available.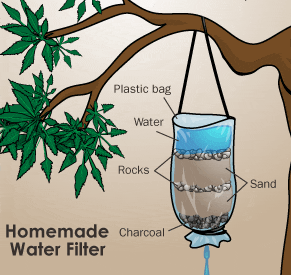 Be carefully of the type of water you get, make sure that they will supply the amount of water that you will require. I would avoid the use of homemade filters, all the research that I have done leads me to the conclusion that they are unreliable.
This is just an over view of water purification and filtration. I intend to write more on this subject in the near future.
Howard