Many of us have never cooked with freeze dried or dehydrated foods and unless you have been practicing, you will become frustrated the first few times you use it. Many think that they can just read the directions and everything will be fine, but remember you don't know how long the emergency will last, so you have to stretch your storage to last as long as possible. Here are a few suggestions that might help you to organize your storage and plan your menus.
Remember that you only have so many spices and herbs for seasoning your food with. Even if you think, you have stored enough. Seasonings lose their value after 6 months. You will be using more to cook with, so plan on growing fresh herbs in your garden and store seeds accordingly.
First of all cooking with freeze dried and dehydrated foods, there are many brands out there and all of them are different. Some need a lot of help when adding them to you recipes. Others not so much, but most still need some seasonings.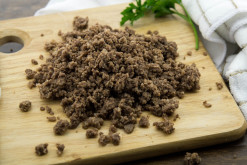 You can stretch a #10 can of freeze dried meats (since they are the most expensive) by using less, use the meat more like a seasoning.  Dried or dehydrated fruit is another expensive item.  We had 20-year-old apple slices that have been packed in Mylar bags, that when opened had lost some of their flavor and texture.  But I added sugar and cinnamon, plus a few other seasonings once I rehydrated them.  I mixed in a few berries added whip cream on top and it was a great cobbler.  A lot of older foods can still be used by adding seasoning or other flavorings.
To rehydrate the fruit I measured out how much I would need by putting the apple slices in the pan I was going to use and then taking out 1/4 of them. Once you add warm water they will swell up and fill in that extra room. If your berries or other fruit used is dehydrated also measure with the apple slices so that it all fits in pan. If they are fresh use less dehydrated apples slices and stir in berries after apples are ready and just before cooking.
If you're using freeze dried meat for cooking, measure out 1 cup of meat to 11/2 cups of warm water to rehydrate the meat and add to your recipe. I never use a lot of meat in my recipes since the flavor is enhanced by the other vegetables and seasonings. Shepherd Pie is really good made this way.
Hopefully you will use some of your freeze dried or dehydrated storage to practice cooking before you need too. As with any new recipe you need to make it once and then adjust the recipe and seasonings to your taste. It's very rare that I don't adjust a recipe.
So hopefully you will try what you have and have fun while doing it. Have an emergency meal once a month and enjoy!
Preparedness Mom