I have both the older Goal Zero Nomad 7 and the new Nomad 7 solar panels.  The new one has some improvements over the older panel.  These are a lightweight portable solar panel designed to charge batteries, cell phone and other small electronics.
I have used the older model for a couple of years now for charging double AA batteries quite successfully.  The new model has just come out and according to the Goal Zero website differs from the old one in the following.  "The main differences between the two models are that the newer Nomad 7 has a full 1 amp output out of the USB port vs. the .5 amp output from the older style Nomad 7, the newer panel has the cables permanently attached to the back of the unit, and the closure is now a magnetic style vs. the older Velcro style".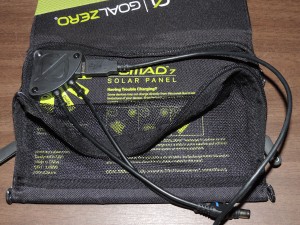 So far, I like the changes that they have made to the new unit.  The manner in which the cables are attached is a big improvement.  The larger new bag works well.  The old one was never big enough.
As I mentioned about my main use of the Goal Zero Nomad 7 has been to recharge double AA and triple AAA batteries.  I use the Guide 10 battery pack with it.  The guide 10 lets me charge 4 batteries at a time.  In bright sunlight they will charge in two to four hours.  One thing that you need to be aware of is that if you use it though a window you may cut its capacity by 50%.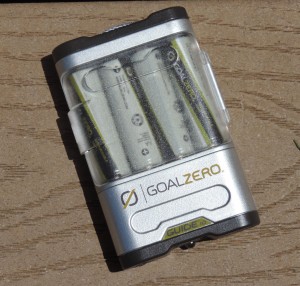 The Goal Zero Nomad 7 will not charge an iPad and has problems with some cell phones, in particular the Apple iPhone.  The iPhone is very sensitive to voltage fluctuations and will stop charging if a cloud crosses the sky.  There is a solution to this problem, buy the Guide 10 Battery pack, plug the panel into the pack and plug the pack into the phone.  If something passes over the panel, the Guide 10 pack will not stop the iPhone from charging.
The Nomad 7 comes with a female cigarette light plug and has connections for a USB cable.  The Nomad 7 also has a cord to plug directly into the Guide 10, but I have found out that carrying a 3 or 4 foot USB cord has some advantages.  If you hang up the panel high to get the best sunlight, the longer cord makes it easier to get at the Guide 10.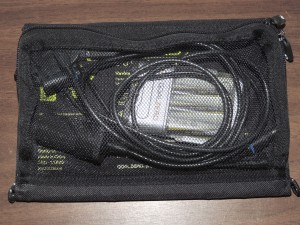 I have not used the Goal Zero Nomad 7 much to charge phones, my main use has been to charge batteries for my flashlights and radios.  The fact that it will charge 4 batteries at a time is a big advantage.  I have no hesitation about recommending the Nomad 7.  It is light, small, has lots of tie downs and serves the purpose.
Howard