Yesterday I received a phone call from a friend who thought I might be interested in something that had occurred in his food storage.  He had not inspected his food for about a month and found several leaking cans.  His big concern was that the cans were not extremely old and were kept in cool temperatures under ideal conditions.
[/caption]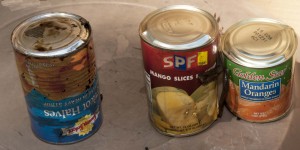 I went to his location and examined the cans; some of them were only about two years old.  The interesting thing was that they were all fruit and were off brands.  In the same area there were cans of fruit from Libby's, S&W, and Del Monte that were as old and in good condition.  The cans that leaked all appeared to be of foreign manufacture.  I feel that the damage was the result of poor quality cans.  It is my recommendation that you consider off brand products to have a shorter shelf live.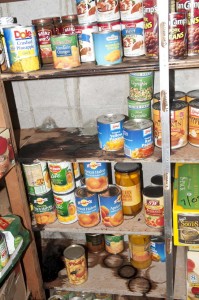 The shelves in his storage had turned black and other cans were contaminated from the contents of the leaked cans.  The whole area and the undamaged contaminated cans needed to be disinfected with a bleach solution.  This destroys the labels on the cans, so they needed to be remarked.
Howard