Summer is here and it is time to have your garden planted. Now I am not a gardener, I like the produce, but gardening is something I do under protest. Now my wife likes to garden. However, in recent years she has had some problems with being able to bend over to work on the garden and needs raised beds.
So this last year we put in some raised beds and they have worked out well.  Because of the cost of redwood, we ended up buying some Rubbermaid drinking troughs for cattle.  Initially we started out with five of them and have since added more.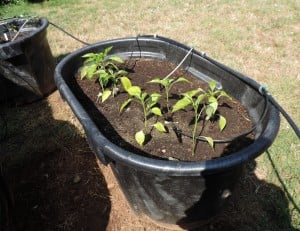 Last year we were able to grow quite a bit of produce in them and we learned a bit about how best to water them. This year has you can see from the attached pictures, we have added a simple sprinkler system to the raised beds. Now you just connect a house and turn the tap on.
My wife likes them because they are easy to weed and do not require bending over. Now they are not going to produce enough food to feed us all year, but they sure help. When my wife decides what to plant, she considers three factors.
What we like
The cost of the produce at the market
The amount of food the plants produce for a given area.
If you watch the sales at your local farm supply these containers go on sale every summer.  One of my sons recently obtained a galvanized water tank and is trying that out for a raised bed.  So if you like the idea of raised beds, and the cost of wood in stopping you, think outside of the box.  Check your local Craig's list and sales for something you can use to improvise one.
Quick Steps on Building Raised Planter Beds
Raised planter beds are a great way to garden if you have limited space, or if you want to garden in an area that doesn't get a lot of sun. They're also handy for people who have back problems, because they raise the plants up so you don't have to bend over as much. In this article, we'll show you how to build a raised planter bed in just a few simple steps.
1. Choose the location for your raised planter bed. You'll want to pick an area that gets at least six hours of sun per day. If you live in a colder climate, you might want to choose a south-facing location so the bed doesn't get too much shade in the winter.
2. Decide on the size of your bed. Raised beds can be any size, but they're typically between 4 and 8 feet wide. The length will depend on how much space you have and how many plants you want to grow.
3. Choose the material you want to use for your bed. The most common materials are wood (either pressure-treated lumber or cedar), stone, or concrete block. You can also use recycled materials like plastic barrels or tires.
4. Build the frame for your bed. If you're using wood, you'll need to cut the lumber to size and then fasten it together with screws or nails. If you're using stone or concrete block, you can just stack them up to create the walls of your bed.
5. Add some drainage material to the bottom of your bed. This could be gravel, rocks, or even old bricks. This will help to prevent your plants from getting too much water and drowning.
6. Fill your bed with a good quality potting mix or garden soil. You can also add some compost or manure to help your plants grow.
7. Plant your seeds or seedlings in the bed. Water them well and then keep an eye on them to make sure they don't dry out.
8. When your plants are big enough, you can start harvesting them! Enjoy your fresh fruits, vegetables, herbs, or flowers.