Summer is here and it is time to have your garden planted.  Now I am not a gardener, I like the produce, but gardening is something I do under protest.  Now my wife likes to garden.  However, in recent years she has had some problems with being able to bend over to work on the garden and needs raised beds.
So this last year we put in some raised beds and they have worked out well.  Because of the cost of redwood, we ended up buying some Rubbermaid drinking troughs for cattle.  Initially we started out with five of them and have since added more.  Here is a link to what we used, Some Easy to Make Raised Planters.  These are cheaper than redwood and much less work.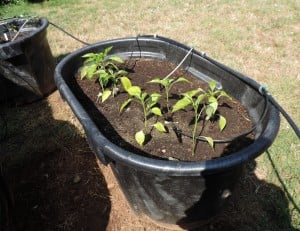 Last year we were able to grow quite a bit of produce in them and we learned a bit about how best to water them.  This year has you can see from the attached pictures, we have added a simple sprinkler system to the raised beds.  Now you just connect a house and turn the tap on.
My wife likes them because they are easy to weed and do not require bending over.  Now they are not going to produce enough food to feed us all year, but they sure help.  When my wife decides what to plant, she considers three factors.
What we like
The cost of the produce at the market
The amount of food the plants produce for a given area.
If you watch the sales at your local farm supply these containers go on sale every summer.  One of my sons recently obtained a galvanized water tank and is trying that out for a raised bed.  So if you like the idea of raised beds, and the cost of wood in stopping you, think outside of the box.  Check your local Craig's list and sales for something you can use to improvise one.
If you any good suggestion we would love to hear from you and send pictures to [email protected] , so we can all see.
Howard