Over the years, I have talked to many people who have cached supplies with different results.  Some have went back to check on their caches and have never found them.  Other were able to walk right up to theirs.
Most of the caches I have heard or read about were made with PVC pipe or metal barrels or ammo cans coated with something like Henry roofing compound.  The PVC pipe ones seemed to be the most common.  It is cheap and easy to get.  You take and cut the pipe to the length you want and glue end caps on.
The downside to the PVC ones is that they are normally not very large.  However, you can buy PVC pipe that is twelve inches or more in diameter.  Most of the larger ones I have heard of were in barrels either plastic or metal.
The biggest problem that I have heard of is people losing track of them.  If you do not regularly check on them, the terrain changes, memories fade or other people find them.  Today I have had people tell me that is no longer a problem because of GPS.  But I wouldn't count on the GPS system working when you need the supplies.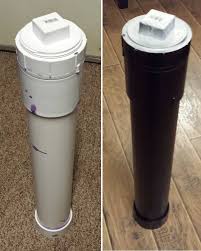 If you decide to bury a cache, it needs to be well thought out.  First, be prepared to lose anything you put in it.  Second make sure it is watertight and well sealed.  Put silica jell in to absorb any moisture.  Third, make sure that you have good landmarks to help you find it.  Fourth, it is best if it is somewhere that you drive by occasionally to watch for changes, such as new construction or dirt work.  I knew someone who lost a cache when a building was erected over theirs.
Caches can be good but they require some maintenance.  They need to be checked periodically.
Howard