This is a guest post submitted by Rebecca on the subject of economic collapse, which is one of the most likely scenarios that I envision happening
Howard
Most people are familiar with natural disasters and how to be prepared for them. We all understand the importance of having an evacuation plan and stocking up on emergency supplies in order to ride out a few days without basic services. But do you know what to do in case of an economic collapse that might last months or even years?
The current economic crisis in Greece demonstrates what can happen as a result of years of financial recklessness. Not only is the country suffering from high unemployment and a shrinking economy but it cannot pay off its international debts. Could the same thing happen to other countries around the world?
More importantly, do you know what to do in the face of an economic crisis? Many experts believe that another economic crisis as severe as the Great Recession in 2008 or worse is possible. What will happen to you and your family when your money no longer has value? Here are some tips to help you make it through an economic collapse:
Become More Self-Reliant – Modern life means that the majority of people do not know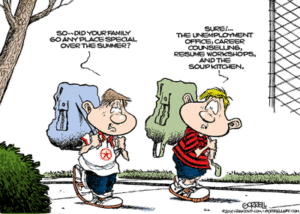 how to grow or obtain their own food. There is the real possibility, however, if money can no longer be used to purchase food in the event of economic collapse. One way to provide for yourself and your loved ones is to grow a garden and learn how to hunt. These basic skills can help you out in any crisis situation.
Begin Storing Up a Long-Term Food Supply – Although prepping often gets a bad name, there are legitimate reasons why you should begin building up a long-term food supply. These foodstuffs can last several years and be instrumental to survival in an economic crisis. They can actually be advantageous if the cost of food soars. If the task seems overwhelming to you, start with a month's food supply and then gradually increase it.
Consider Investing in Gold and Silver – Before paper money existed, gold and silver were the foundations of economies. If the current global system of paper money collapsed, an economy based on gold and silver has a good chance of replacing that system. Unlike paper money, gold and silver have intrinsic value and they act as real assets that create barriers against inflation. Even when your paper money loses its value, gold and silver might keep theirs.
Get Out of Debt – Outstanding debts cause major financial problems not only for governments but individuals. For example, if you still owe money on your house and you suddenly lose your source of income due to economic problems, your bank can repossess your house and you'll be left without a home. Getting out of debt as soon as possible, whether it is a mortgage, credit card debt, or student loans, is always a good idea.
Learn How to Protect Yourself – A major economic crisis could not only affect your ability to purchase needed items but could also lead to the collapse of governments and law enforcement. Many countries facing economic crisis also lose the ability to control its citizens. In the face of anarchy, you will need to have a plan in place for defending yourself and your loved ones.