The other day my wife purchased some 25lb bags of split peas from Winco.  They were reasonably priced at about $12.00 a bag.  Since we wanted them for long term storage, I decided to can them in #10 cans.
I am going to walk you through the canning process.  The cans, lids and oxygen absorbers were purchased through our local LDS cannery.  When you purchase your oxygen absorbers you need to buy an oxygen absorber bag clip.  They are used to reseal the oxygen absorber bags.  They will not seal the bag for extended periods (see previous post on testing oxygen absorbers). For those of you who prefer to purchase from another source or who do not have a cannery near them, you can find the canning materials on the internet.
Canning Process
My canning machine is an older hand crank machine that I have had for about 30 years. I started by filling the cans with split peas, leaving a little room at the top for the oxygen absorber.
Oxygen absorbers
For those of you who are unfamiliar with oxygen absorbers, they are a small bag filled with iron powder and a salt mixture.  When they are exposed to air they immediately start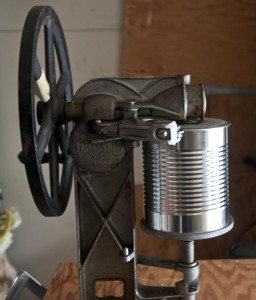 to rust.  Rust is a form of oxidation and consumes oxygen.  The oxidation will remove all the oxygen from a #10 can. The oxygen absorbers come in a Mylar bag and have to be protected from exposure to air.  This is where the bag clips come in.
Once the can is full of split peas I placed an oxygen absorber directly on top of the product and set the can lid on loosely.  The can is then set onto the canning machine and raised into place.  Now simply turn the hand crank until the can is sealed. The oxygen absorber in contact with the food will not cause a problem, but do not eat it.
Howard