Recently we were at a garage sale and bought a FoodSaver for ten dollars.  It worked fine, but my wife wasn't to excited about it because of the cost of the bags.  Well the other day she got the attachments for it to vacuum seal mason jars.  It was like a kid with a new toy at Christmas.  She and a friend played with it most of the day.
It is simple to use.  You fill up a jar with the product you intend to store, put a canning lid on top of the jar.  You then put the FoodSaver jar sealer on top of the jar and activate it.  It sucks the air out of the jar and seals the lid.  You do not need to put the screw rings on the jars.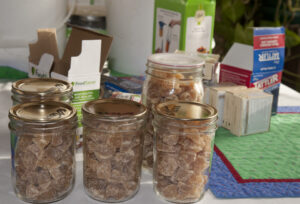 The instructions say that if you follow their direction on how to remove the metal lids they are reusable. Though a bit of investigating we found out that you can store foods like nuts, candy, chocolate and spices for extended periods of time.
My wife packaged many of her spices in jars yesterday.  She kept small amounts out for everyday use.  As she uses these up, she will open a mason jar and refill her small containers.  The mason jar can then be refilled.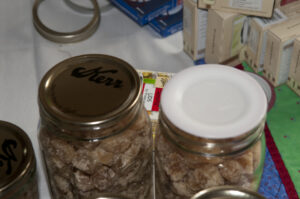 There are two attachments, one for large mouth and one for small mouth jars. You probably want both. Almost anything you can store in a FoodSaver bag can be stored in the jars.  As we continue to use this system, we will let you know if we run into any problems.
Howard